In any workplace, safety is extremely important. Keeping your employees, visitors, equipment, and products safe is something that requires planning from the ground up, literally. The flooring you choose in a facility can have a major impact on the safety of those who work there.
According to research by the "National Floor Safety Institute," slips and falls occur in all manufacturing and service sectors, and account for 26% of all workers' compensation costs each year in the United States. Failing to consider the use of safe flooring in a facility can prove costly down the line.
In many facilities, a skid resistant floor is an excellent line of defense against common workplace accidents and injuries. Skid resistant flooring provides a durable, high-grip surface for areas where liquids can spill, equipment is frequently moved or carried, or where outside weather can affect footing.
About Cornerstone Flooring's Skid Resistant Options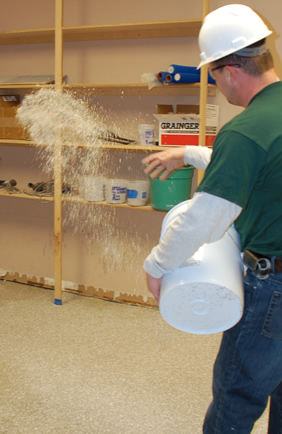 Many of Cornerstone's seamless flooring systems and coatings feature varying levels of skid resistance. Oftentimes the flooring surface can be altered to enhance the level of skid resistance even more to meet the specific needs of a facility. In some systems, anything from a smooth "orange peel" texture up to a very rough sandpaper-like texture can be achieved.
Cornerstone installers do this by spreading, or broadcasting, an aggregate material such as sand over the flooring. The aggregate first cures in the epoxy. A final topcoat is then applied over the newly textured surface. This coating is laid on thick or thin enough to achieve the desired skid resistant texture, and will also seal the aggregate in place and offer further protection to the flooring.
Cornerstone Flooring's Skid Resistance Measurements
All Cornerstone Flooring resinous systems and coatings that feature skid resistance have been tested with industry-accepted methods. These tests use special machinery to verify the skid resistance of a flooring surface, and express that resistance as a Coefficient of Friction. This chart breaks down all of Cornerstone's seamless flooring products along with their verified coefficient of friction and testing method used (these measurements and other testing measurements can be found on the individual Technical Data Sheets for all of our systems and coatings).
COATINGS
| | | |
| --- | --- | --- |
| Coating | Skid Resistance (CoF) | Test Used |
| 1777 | 0.6 (over CS 3000) | ASTM D-2047 |
| 2025 | 0.6-1.29 (w/ aggregate) | MIL D-3134 |
| 2160 | 0.6-1.29 (w/ aggregate) | MIL D-3134 |
| 2880 | 0.6-1.29 (w/ aggregate) | MIL D-3134 |
SYSTEMS
System

Skid Resistance (CoF)

Test Used

3000 F

0.6-0.75

0.75

ASTM D-2047

ASTM F-1679

3000 HD

0.6-0.75

0.75

ASTM D-2047

ASTM F-1679

4100 Q

0.9 (standard texture)

0.8 (medium texture)

0.7 (smooth texture)

ASTM D-2047

4500HD Q

0.9 (standard texture)

0.8 (medium texture)

0.7 (smooth texture)

ASTM D-2047

5000 F

0.6-0.75

ASTM D-2047

5000 F PF

0.6-0.75

ASTM D-2047

5000 HD

0.6-0.75

ASTM D-2047

5000 SB

0.6-0.75

ASTM D-2047

5000 SB Q

0.6-0.75

ASTM D-2047

5000 T

0.8-1.2

ASTM D-2047

GARD

0.6-0.75

ASTM F-1679
There are certain benchmark coefficient of friction values used for all floorings and coatings, regardless of building type, to determine what is considered skid resistant or safe. OSHA considers a walking surface "nonhazardous" when it has a CoF of 0.5 or greater. The ADA recommends a minimum CoF of 0.6 for a walkway to be "nonhazardous." It is important to note that neither of these values are requirements, but merely widely accepted benchmark recommendations.
All of Cornerstone Flooring's skid resistant floorings and coatings meet or exceed these recommendations. Several of our products feature optional aggregate types and textures to increase the coefficient of friction to more than 1.0, a surface considered highly aggressive in texture and skid resistance.

Some possible skid resistant textures from our flooring systems, in order of aggregate aggression
Which Cornerstone Flooring Option is Right for Your Facility?
Several factors go in to determining which Cornerstone urethane flooring system is best for your facility. Among the things to consider when assessing the level of skid resistance needed:
Amount of foot and machinery traffic
Are extremely heavy objects being moved across the floor?
Amount and intensity of regular cleaning to take place
Will there be contact with chemicals or other spilled liquids?
Appearance of the floor
Cornerstone Flooring sales representatives are skilled at working with you to determine which of our flooring options is the best fit for your facility. They will take walkthroughs of your facility, discuss any special needs, and make recommendations specific to your project.
To speak with a Cornerstone Flooring sales representative near you and to discuss our skid resistant urethane flooring options in more detail, contact us today!